Physiotherapists Shelley Dumais and Emma Rigsby, and Acupuncturist Cydney Smith are passionate about people, enthusiastic about an active lifestyle, and are committed to helping our community with their health and wellbeing.
According to the Arthritis Society in Canada, Osteoarthritis (OA) is the most common type of arthritis. It affects more than 4 million Canadians or 1 in 7 adults; more than all other forms of arthritis combined. Osteoarthritis is a progressive disease that can cause severe pain and in some cases requires surgery.
Physiotherapy and Acupuncture can help you manage the symptoms of OA and improve your mobility and function. Having a diagnosis of Osteoarthritis does not necessarily mean you need a joint replacement.
Osteoarthritis is a breakdown of the protective tissue called cartilage that covers the ends of the two bones within a joint. The loss of cartilage causes the bones within the joint to rub together. This "bone on bone" creates pain, stiffness, and other symptoms. People think of OA as an "old people" disease but it can occur in adults of any age. In fact, many people are diagnosed before the age of 45. OA is also called degenerative joint disease, degenerative arthritis, and wear-and-tear arthritis.
Osteoarthritis often progresses slowly over a period of months or years. In the early stages, it may come and go as mild pain and aching but in time, the damage progresses and symptoms can become more constant even occurring at rest and disturbing sleep. The most common symptoms of OA are joint pain, aching, morning stiffness, loss of flexibility, reduced range of movement in the affected joints and joint swelling. The intensity of pain can increase over time as OA is a progressive disease.
Osteoarthritis can be caused from a prior joint injury from sports or accidents and from repetitive strain on your joints. Extra body weight, aging, diabetes, and family history are also factors in the incidence of osteoarthritis.
The most commonly affected joints are your hands, knees, hips and spine, and particularly your neck and lower back.
To manage your OA we recommend:
Exercise is medicine. Regular cardiovascular exercise, weight management and aquatic exercises are great for people with OA.
Physiotherapy will use some hands-on therapy to optimize your functional movement. We prescribe therapeutic exercise, which is proven as the most effective way of reducing pain associated with OA.
Acupuncture for pain management – the needles will stimulate the production of neurotransmitters and hormones to control pain and inflammation.
Walking aids such as walking poles, canes, or a walker help to optimize your gait pattern which helps to decrease stress on your arthritic joints and ultimately reduce pain.
Bracing provides enhanced stability while reducing pain, swelling and pressure on weakening joints. Bracing can help you improve your confidence with the brace providing the extra support you may need. Custom braces for knee osteoarthritis are designed to put specific points of pressure against the thigh bone, guiding the knee to unload at the painful area of the joint.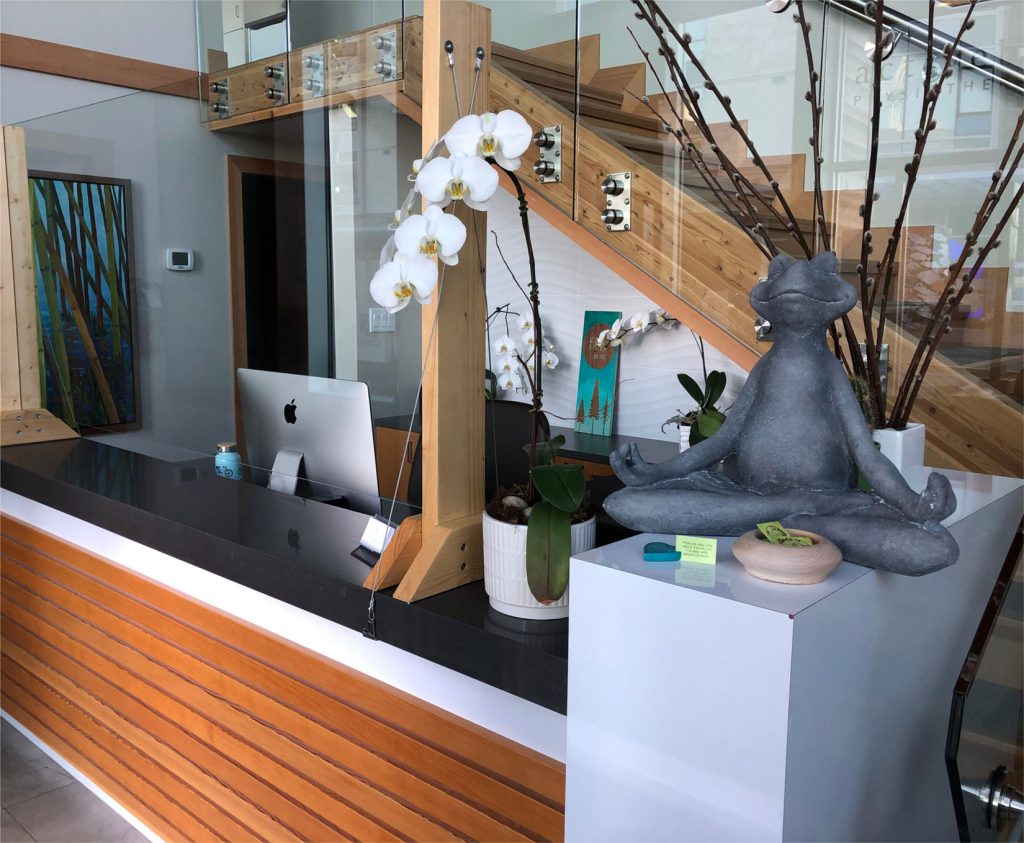 "I am very pleased with the services I have received from Active Balance Physio. The staff and physiotherapists are professional, knowledgeable, kind and truly care about your entire well-being. Your sessions are personally geared towards full body recovery. A little gem in the town of Sidney and I would not hesitate in recommending them!"
Delilah Watson
"For the past 2 months I've been battling insomnia. After my treatment yesterday by Cydney I had one of the best sleeps I've had in a long time. Cydney Smith at Active Balance will take good care of you!"
Mike Jean
"Fantastic expertise from Emma, who listened carefully, diagnosed my issue, performed some stretching and manipulation of my spine, gave me some exercises and stretches to perform at home and made me feel so much better. Highly recommended."
Lindsay Bradshaw
"Emma was thorough, had actually read the notes I sent via the online system and very quickly got to grips with the couple of issues. Professional, friendly and knowledgeable about many of my chronic health issues which would make her better placed than many others had been to fashion an exercise regime tailored to my needs."
Carol Spode
"This was my first visit with Shelley and I was so impressed with her professionalism and thorough assessment of my knee injury. The exercise program she prescribed is comprehensive and doable. She exudes warmth and is extremely approachable; I'm delighted to have found her."
Joan Richardt
"Shelley is a thorough and conscientious Physiotherapist; she wants to help you keep active and she develops an exercise strategy and plan to help you recover from injuries and to continue engaging in your sports activities. She is on your team."
The Williams Family