Shelley started Active Balance Physiotherapy Studio at her home in Deep Cove in 2010. Prior to that she had developed her Orthopaedic career with experiences working in small clinics with great mentors and working with athletes at the University of Victoria. She is a graduate of Physiotherapy from the Faculty of Medicine at the University of British Columbia with a first class average.
Shelley completed her Intermediate Manual Therapy Exams with the Orthopaedic Division of the Canadian Physiotherapy Association in 1999. Throughout her over 25 year career she has taken numerous post-graduate courses in orthopaedic and sports physiotherapy, sport massage, Fascial Manipulation©, Thoracic Ring Approach™, and the Integrated Systems Approach. She has also taken many courses in cycling coaching and professional leadership.
In 2019, Shelley moved Active Balance Physiotherapy Studio to Sidney BC and expanded her team. She is loving adding mentorship to her job description.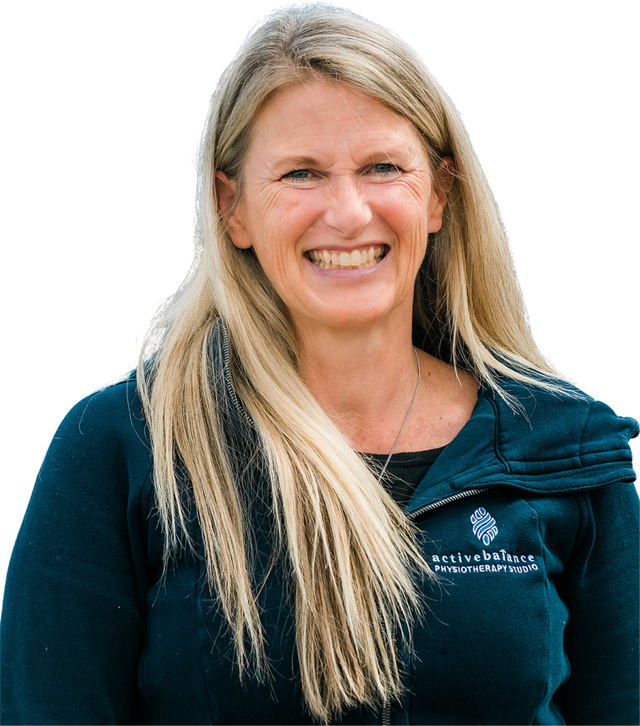 "You gotta see it to believe it!"
Registered Physiotherapist
Bachelor of Science, 1992, Bachelor of Rehabilitation Science, Physical Therapy (with distinction), University of British Columbia, 1995
Integrated Systems Model training with Diane Lee and LJ Lee
Thoracic Ring Approach ™
Intermediate Manual Therapy Exams with the Orthopaedic Division of the Canadian Physiotherapy Association, 1999
Stecco Fascial Manipulation ©
Sports Massage, Soft Tissue Release, Muscle Energy Technique
TMJ treatment
Running Injury & Coaching
Cycling Coaching, Bike Fit
Personality
Shelley loves connection with people and staying active. She believes exercise is medicine! Her whole life she has always been keen to try new sports and activities that challenge her!
She grew up in Oliver and as a child enjoyed skiing, swimming, biking, and field hockey. In her adult life she has pursued running, mountain biking, wake surfing, skate skiing, hiking, golfing, and road biking. She has competed in marathons, triathlons, trail running races, cycling time trials, and cycling grand fondos. Her love for activity and her love for people are an awesome fit for Physiotherapy. She loves to connect with her patients, analyze their mobility patterns, and help them to move better, feel better, live better!
Favourite Book
Boys on the Boat
Music
Can you say eclectic? Adele, Tragically Hip, Cold Play, Maroon Five, Ed Sheeran, Norah Jones, Luke Combs, Morgan Wallen, Fleetwood Mac, Guns & Roses
Movies She Loves
The Princess Bride, Goodwill Hunting, Soul Surfer
Often heard saying
"Have you seen how amazing Mt. Baker looks today?"
Favourite Activities
Cycling, golfing, hiking, running, surfing, paddleboarding, skiing, traveling, crosswords and cooking!  
Super Human Trait
Packing her SUV after "over shopping" at Ikea!
Community Connection
Shelley is a member of the Element Race team, the president of the TNRG Cycling Group and a founding member of the 100 Women Who Care Saanich Peninsula.  She has a passion for philanthropy: in 2010 her Ride To Conquer Cancer team raised $83,000 benefiting the BC Cancer Foundation.