Patient Experience Coordinator /
Physiotherapy Assistant
Emily has worked at Active Balance Physiotherapy Studio since May 2020 alongside Shelley Dumais (Owner) as she expanded her practice, hiring new physiotherapists, acupuncturists and office administrators. Emily's courses in macroscopic human anatomy, neuromuscular integration, neuro-anatomy, biomechanics, lifespan motor development, human motor behaviour, healthcare sociology and sport psychology provide her with a multidisciplinary understanding of the human body and the health care system which she uses to guide her interactions with patients and practitioners in the clinic.
Emily is responsible for organizing, researching and writing clinic policies and procedures including COVID-19 policies to ensure the safety and wellbeing of our community along with creating exercise programs for patients and providing assistance to physiotherapists.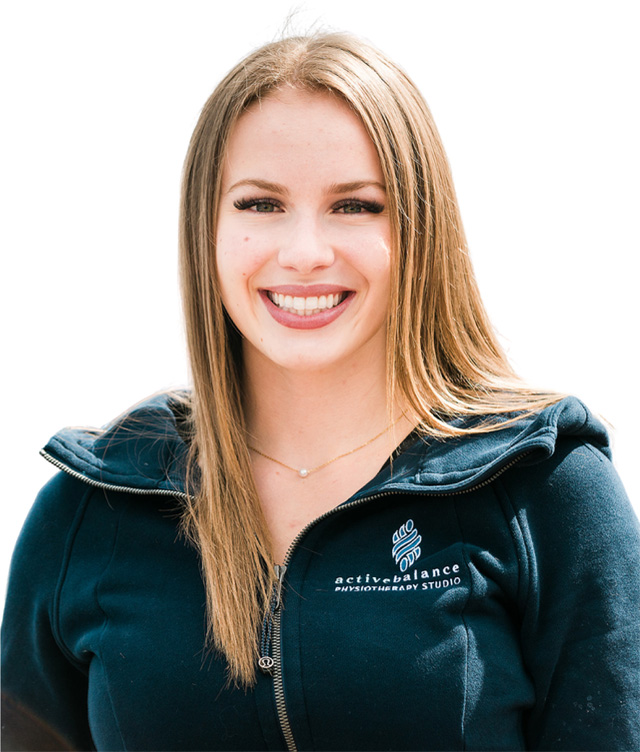 "Life isn't about finding yourself, life is about creating yourself"
Bachelor of Kinesiology, University of British Columbia, 2022
Standard First Aid and CPR Level C, 2021
All Youth Matter – Inclusion Training, 2019
Dual Dogwood (French Immersion and English) Diploma (Honours), 2018
Medical School for Secondary Students – University of Victoria, 2016
Personality
Emily was born and raised in North Saanich, BC. In 2018, she moved to Vancouver to pursue an undergraduate degree in Kinesiology at the University of British Columbia. She values the importance of a multidisciplinary approach to wellness and uses her knowledge of the human body to connect with patients in the clinic.
Growing up, Emily participated in various sports including soccer, swimming, dance and competitive gymnastics. Emily attributes her determined and hardworking personality along with her time-management skills to her many years balancing gymnastics, academics, music and her active involvement in the community. Emily enjoys spending time camping, surfing, cycling and hiking.
Favourite Book
The Garbage King, The Silent Patient
Music
Emily enjoys all country music. Her favourite songs include Refrigerator Door by Luke Combs and Love Someone by Brett Eldredge
Movies She Loves
Emily loves the TV series Suits, Blacklist, Blindspot and the Queen's Gambit
Often heard saying
"This bed cleans so well" and "I'm just going to do a quick COVID-19 screen"
Favourite Activities
Emily enjoys adventures outside including hiking, surfing, cycling and camping. She loves spending time with friends and family, traveling and exploring new cuisine. Emily also enjoys weight lifting.
Super Human Trait
Filling cancellation spots with 10 minutes notice, scheduling, organization and time-management
Community Connection
Emily has volunteered at BC Children's Hospital events in the greater Victoria area as well as at Our Place, the local food shelter in Victoria, BC. Emily volunteers at Canuck Place Children's Hospice in Vancouver as a Peer Volunteer where she interacts with children on program and their families. Emily is also a volunteer research assistant in the Fitness, Aging and Stress Lab at UBC where she is helping examine the effects of acute physiological stress on female exercise capacity.